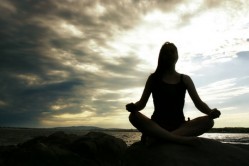 As Roadless Travelers, we choose to step outside of our comfort zones and reach for our dreams.  But this does not come without consequence: there will be trials and hardships along the way.  In the words of fellow Roadless Traveler, RoK:
"May all of our paths be long and hard; these are the only ones worth taking." ~RoK
Dealing with the challenges and hardships that come along with traveling towards your dreams can be a daunting task.  Fortunately we have a tool – meditation – to help calm our mind and reign in our thoughts.
Meditation comes in many different forms and there are many different techniques that can be used, but the overall purpose of all different types of meditation is the same: to clear the mind.  It is a training method of the mind which is used to clear way our thoughts to help us achieve our goals.
Those of you who have ever set out on a journey by yourself will know that there are inherent challenges that come along with setting out alone.  There have been times when I am traveling that I have become overwhelmed with what is going on around me – either in the physical or emotional realm.  Thoughts start speeding through my head as I try to make sense of what is happening around me.  Then, sometimes with a stroke of luck, I realize that I have this tool to help myself manage the situation, and upon meditating I can clear my mind and take control over how I feel.
The benefits of meditation extend beyond traveling or moving, but into our everyday lives.  Each and every day is a journey even though we may not be covering any mileage.  And we can achieve a peace of mind by setting aside as little as 5 minutes every day.
This is the introduction to a series of posts which – over the next few weeks – will explore some of the benefits, techniques and realities of meditation.
Part one: Meditation
Part two: Meditation as a Tool
Part three: The Meditative Process
Part four: Meditation in Real Terms
Subscribe

No Comments »
No Comments »
No comments yet.
RSS feed for comments on this post. TrackBack URL
Leave a comment