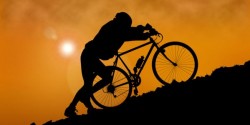 Today I happened upon a TED talk today by Derek Sivers about Keeping Your Goals to Yourself.  He gives an interesting perspective on goal setting and telling others about your goals.  It is a short video and worth the 3 minutes to watch:
Derek Sivers – Keeping Your Goals to Yourself
But it brought about some interesting thoughts about getting up and doing something – working towards your goals.  If you stay where you are, you'll continue to remain the same exact distance from your goals.  But, if you decide to do something – even a little something – you are that much closer to realizing what you have set out to do.
Those of us who realize our goals and dreams are the ones that are actively out there pursuing them.  How can you arrive somewhere that you aren't headed?  Each person in the world needs to raise their sails and find the winds that will take them towards where they want to be.  Don't wait for the day when you might have the chance to start – do it now.  Every journey in recorded history began with a single step.
So whether you are traveling the world, looking for a job, or simply signing up to do something you haven't done before, I encourage you to dive in.  Don't hold back – your future is waiting.
Sometimes it takes an outside force to wake us up and realize that we aren't where we want to be.  But getting where we want to be isn't going to happen overnight – You can't just decide that you are  going to be the CEO of a company tomorrow.  It takes dedication, practice, and most importantly: perseverance.  It's difficult to continue walking the path towards your dreams when there are so many obstacles.
One of the best descriptions of the obstacles we will face while pursuing our dreams was written by Paulo Coehlo and is featured at the beginning of his book "The Alchemist."  Paulo describes the path to your dreams as your Personal Legend, and details out the four major obstacles each of us will face as we make our journey.  Personal Legend – Paulo Cohelo
I'd like to challenge everyone to take 5 minutes and do something related to the ultimate goal you have in your life.  See where it leads you.  Start making your way to realizing your dreams, and don't let any obstacles stand in your way.
Subscribe

1 Comment »
1 Comment »
beautifully written… It motivates me to keep trying my hardest in Yoga training!

Comment by Kim — November 4, 2010 @ 4:38 pm
RSS feed for comments on this post. TrackBack URL
Leave a comment