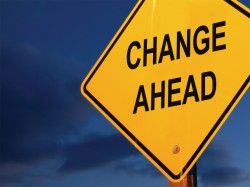 Change.
That one word is so simple yet so extraordinarily important in today's world.  We live in a world where change happens, and is happening faster and faster every single day.  Thinking back just 5 or 10 years and we can see the huge changes in life and society all over the world.
For those of us who travel, seeing change around us is something that you get very used to, very quickly.  By throwing ourselves out into the unknown – which is the thrill of traveling, right? – we are exposed to the front lines of change across the world. It amazes me every time I think about the change that is happening all around us.  Especially in developing countries around the world where technology hits and the change is not gradual but instead a huge leap.
"In times of change, the learner inherits the earth while the learned stand perfectly equipped to live in a world that no longer exists." – Helen Rortvedt
Being open and accepting to the changes that are happening around us all the time is very important.  Some of us are more exposed and affected by changes going on in the world – anyone who is willing to step out of the "known" and into the "unknown" is throwing themselves to the mercy of change.
"It is not the strongest of the species that survive, nor the most intelligent, but the ones most responsive to change." – Charles Darwin
We live in a world where change is inevitable.  When and how that change comes and graces our lives is unpredictable and arbitrary.  But we can be sure that it will happen eventually, so let's be open to it and accept it when it comes.
Subscribe

1 Comment »
1 Comment »
Oh man, I wish that quote were attributable to me. I actually found it tacked to a bulletin board at Michael Sottosanti's old farm house outside of Winchester, VA about 5 years ago, and it's resonated with me every day of my life since. I believe that writer Eric Hoffer deserves proper recognition here. I hope this finds you well, dear friend, wherever you may be! Jallalla!

Comment by Helen Rortvedt — November 18, 2010 @ 11:32 pm
RSS feed for comments on this post. TrackBack URL
Leave a comment