The past few days I was lucky enough to have some free time and decided to use it to travel to a place that I've never been to: Moab, Utah.  I had heard lots of things about Moab throughout the years, but never had the chance to see it myself.  The opportunity presented itself over the weekend, and last-minute I headed out with my girlfriend to explore this beautiful area.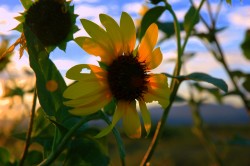 The first magical moment on the trip happened when we were getting close to Moab just as the sun started to set.  We had to stop the car on the side of the road and snapped a few pictures of the sunset in the clouds.  We also happened to find some sunflowers out in the desert and included them in some of the pictures as well. After about 30 minutes watching the sunset unfold before our eyes, we finally dragged ourselves away and continued down I-70 on our way. read more »
Subscribe

1 Comment »
This hike was the perfect opportunity for RoK and Greg to make the first sketch video for this site. Located on the Nistru River in the Rezina region Ţipova, Moldova has both natural and historical attractions, with 5 waterfalls as well as canyon formations that reveal an ancient coral reef remains – and plenty of light climbing opportunities. It was a full day event (from the capital Chişinău) including the 3-hour round-trip transport and the 11km hike.

Along the trip we also visited an ancient rock monastery located on the Nistru river, and secluded pasture that's considered an archaeological site since it has been continuously inhabited for thousands of years.
If you are interested in going on this trip, contact Leonid Roshka with www.explore-moldova.com for his help organizing and leading the trip.
Subscribe

5 Comments »